Fork Shifts : Fork Shift, Fork Gear Shift, Shifter Fork etc.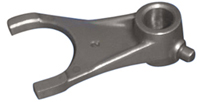 Fork Shift gets engaged into the gear when gear shifting lever is moved.
We are engaged in manufacturing and supplying of shifts fork, which are Motorcycle Transmission Components, made out of investment castings and forgings, these shifts are widely appreciated for features like corrosion resistance, abrasion resistance and dimensional accuracy.
Material used : Steel casting / forging