Camshaft : SG Iron Camshafts, Ductil Iron Camshafts, Camshafts, Fully Finish Camshafts, Camshaft with bearing assembly etc.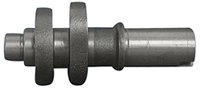 The camshaft controls the opening and closing of the intake and exhaust valves in the cylinder head, either indirectly through pushrods, rocker arms, or followers, or sometimes directly.
We are offering Camshaft which is used in piston engines to open and close poppet valves. It is a cylindrical rod that runs the length of the cylinder bank. Our camshafts are manufactured with precision and are provided to our clients in customized specifications.
Material used : SG Iron / Ductile Iron casting