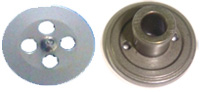 Armature Plate & Guide – Diesel Injector parts, Precision Turned parts
Material – Steel Bars.
Armature Guide - We are manufacturer of Armature Guide which are made up thin magnetic steel laminations stamped from sheet steel. The laminations are welded, riveted, bolted or bonded together. We can offer these precision turned parts or armature parts to our clients in customized specifications to meet their varied requirements. We also offer drum gear shift from two wheeler manufacturers.
Armature Plate - We manufacture and supply a wide range of Armature Plate. These are designed and developed as per international quality standards. These are made using high-grade raw material, which we procure from authorized vendors of the market. Our products are highly reliable because these are fabricated using quality tested and durable raw materials.